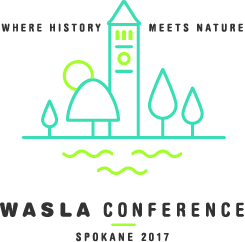 Spokane Convention Center, April 21, 2017
One Day, Dynamic Sessions, Ultimate Location


Where History Meets Nature celebrates city planning that exemplifies an essential sensitivity to each site's distinct history, its future potential, and the natural processes that shape it. The unique and rich history of a place, the beauty and grit of its surrounds, and the opportunities it makes possible all define the essence that landscape architects work to protect, restore and enhance. Inspired by this year's conference city, Spokane, Washington, the WASLA 2017 Annual Conference seeks discussions about place-shaping as it relates to intertwining natural assets and the built environment, historical preservation and planning the future, city centers and city perimeters, and other topics that explore our history, challenges, opportunities, and responsibilities when shaping nature.